American Silver Eagle bullion coins have been in a repeating pattern when it comes to their monthly sales this year. One month will show a decline only to be followed the next month with an increase.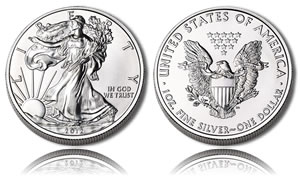 This pattern was followed yet again in May when United States Mint authorized purchasers ordered 2,875,000 of the silver coins, logging an increase of 1,355,000, or 89%, of the number delivered in the previous month.
Despite the large advance, sales were diminutive compared to January when U.S. Mint sent out 6,107,000, the second best monthly total of all-time. But still, May easily ranked above all of the other months this year.
Looking at the month of May in general finds 2012 had the third best one since the Silver Eagle first appeared in 1986. Figures come in behind May 2010 when 3,636,500 were sold and May 2011 — which currently holds the title as the best May ever — when 3,653,500 moved. The next closest May was in 2009 with sales of 1,904,500.
It is not too surprising that the American Silver Eagle bullion coin this year has had it tough against 2010 and 2011. These years currently hold the top two spots for annual sales. 2010 hit 34,662,500 only to be surpassed in 2011 with 39,868,500.
So far, 2012 is lagging. Annual sales are at 14,534,000. In comparison, January through May of 2010 saw 15,167,500 sold while January through May of 2011 reached 18,901,500.
Silver has risen consistently in value, more than tripling in price over the past decade. Demand for silver bullion will continue to increase as the global economy struggles and public faith in government-led financial systems is undermined. Historically the foundation of most major currency systems, silver and silver alloy coins may soon see widespread use as a medium of exchange once again.